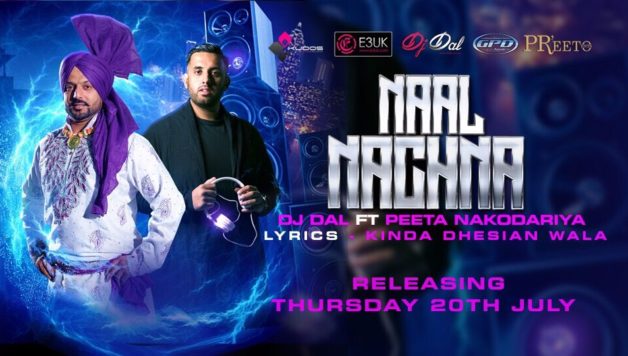 DJ Dal ft Peeta Nakodoriya – Naal Nachna (Out Now)
E3UK PRESENTS NAAL NACHNA BY DJ DAL FEAT PEETA NAKODORIYA
International DJ Dal who is part of the leading Kudos UK Audio and Visual Company is all set torelease his debut single Naal Nachna
The track features the vocals of Peeta Nakodoriya who is thelead singer from the world-renowned Bhangra dance group Gabhru Punjab De
.
Peeta and Dj Dal collaboration came from performing together at various events across the globe.Dj Dal has worked tirelessly behind the scenes to put together his first single.The track Naal
Nachnais being released worldwide via E3UK Records on the 20thJuly 2017.Naal Nachna is described as an upbeat party song with catchy lyrics, bound to be a sure hit and
haveyou on the dancefloor. The lyrics have been penned by Punjabi born Kinda Dhesian Wala, video directed by
The video has been shot in Chandigarh and was Directed by Jack Sarwan, the desi visuals on this track has been captured beautifully in the heart of Punjab. Both Dal and P
eeta have a massivepassion for Panjabi music and this musical energy spilled into the studio to record Naal Nachna
.
Naal Nachna is due to be released 20th July 2017 exclusively on E3UK Records.